Insulated food delivery bags maintain foods' temperature while controlling moisture. By keeping moisture at bay, these bags help to prevent soggy foods while preserving freshness. They're essential for getting perfect pizzas, deli trays, and food pans to their destination, as well as for carrying cans of soda or beer, in bulk, to your catered event. Be sure to check out our insulated food delivery bag reviews as well!
Insulated Food Delivery Bag Uses
Delivering foods from kitchen to customer can prove to be challenging without the right tools for successful delivery. Pizzas may get cold before they arrive to their destination, and they may get shuffled around in their pizza boxes. Cans of soda may get shaken up, sandwiches may deconstruct, and your signature mac-and-cheese may lose its cheese during transport. This is where insulated food delivery bags come into the picture.
These bags are versatile additions to any commercial catering or commercial catering or delivery operation. Many can be used for multiple menu items, too. Pizza delivery bags, for example, are great for carrying wraps, subs, wings, strombolis, and side orders of french fries or mozzarella sticks, in addition to your signature pizza pies. Soft-sided coolers are ideal for transporting cans, bottles, take-out containers, sub sandwiches, food storage containers, and pans of fresh-baked ziti, fire-grilled burgers, and even decadent cherry cheesecake dessert. Making a decision about which brand is best for your needs, which pizza delivery equipment is best, and choosing the right style carrier can make all the difference in the efficiency of your business.
Exterior Insulated Food Delivery Bag Materials
Insulated food delivery bags are available with nylon or vinyl exteriors. Both materials are water resistant, making them ideal for delivery in any weather condition, including rain, sleet, or snow.
Nylon insulated food delivery bags are more expensive than vinyl, but they are breathable. This breathability allows the bags to keep your foods warm, while allowing steam to escape. When looking for the best pizza delivery bags, look for nylon if you want to minimize steam for pizza with crispier crusts.
Vinyl insulated food delivery bags don't breathe as easily, so moisture tends to get trapped in the bags, resulting in faster food deterioration. They are less expensive, though, so when short destinations are in your serving area, bags like these, in particular vinyl insulated pizza delivery bags, are sure to get the job done.
Dishwasher Safe Insulated Food Delivery Bags
All insulated food delivery bags can be wiped clean as needed, but there are dishwasher safe bags, too. These bags can safely be put in the dishwasher at the end of the night, for fast, efficient cleaning. We offer dishwasher safe food bags and dishwasher safe pizza bags alike.
Types of Insulated Delivery Bag Closures
The job of the insulated food delivery bag is to ensure that foods retain as much heat as possible or stay as cool as possible from kitchen to customer. A quality closure on the bag is essential to meeting this objective. Closures can be hook-and-loop or zipper in style, and some bags offer additional side release buckles for added protection.
In addition to serving to keep heat in the bag, closures help to lock food in place for minimal movement during transport. They ensure quick packaging, too, with intuitive designs that are easy to use.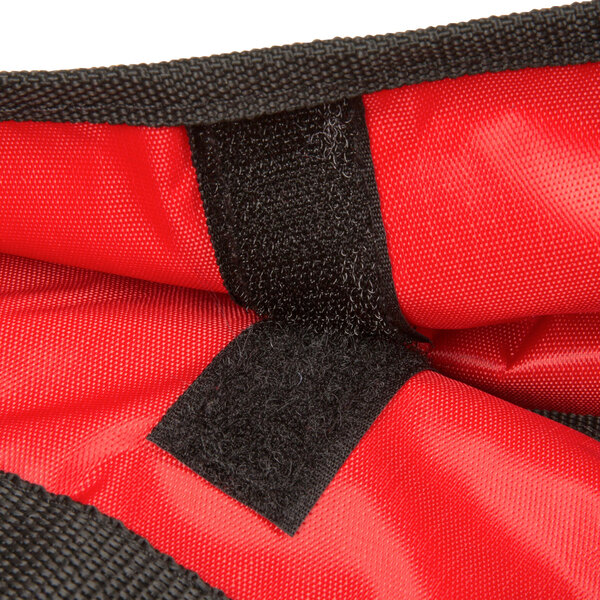 Hook-and-Loop Closure
These closures are designed with two components, a hook and a loop. The hook is the rough side of the closure, whereas the loop side is the softer side. The hooks connect with the loops to form a solid closure.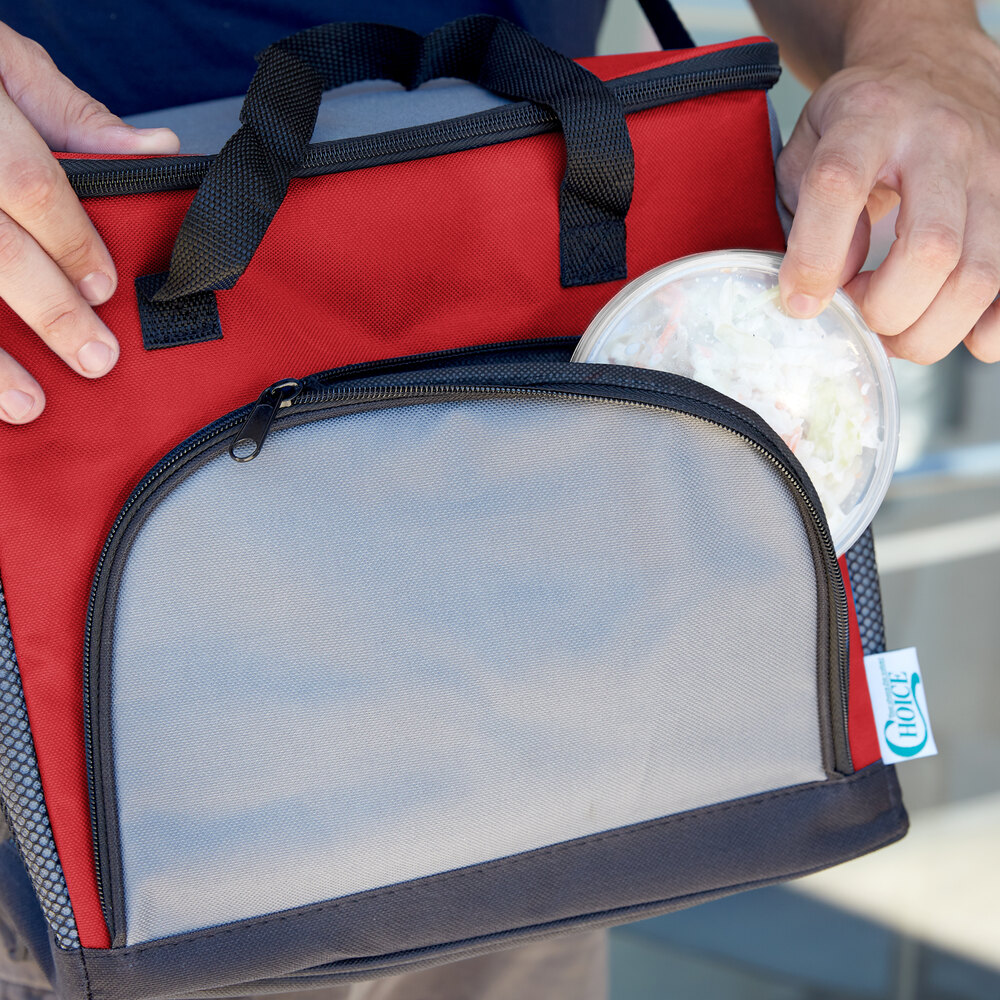 Zipper Closure
Zipper closures are designed with two rows of protruding teeth and a slider with a Y-shaped channel. By moving the slider by hand along the rows of teeth, the user can join or separate the teeth (depending on direction) to close or open the connection.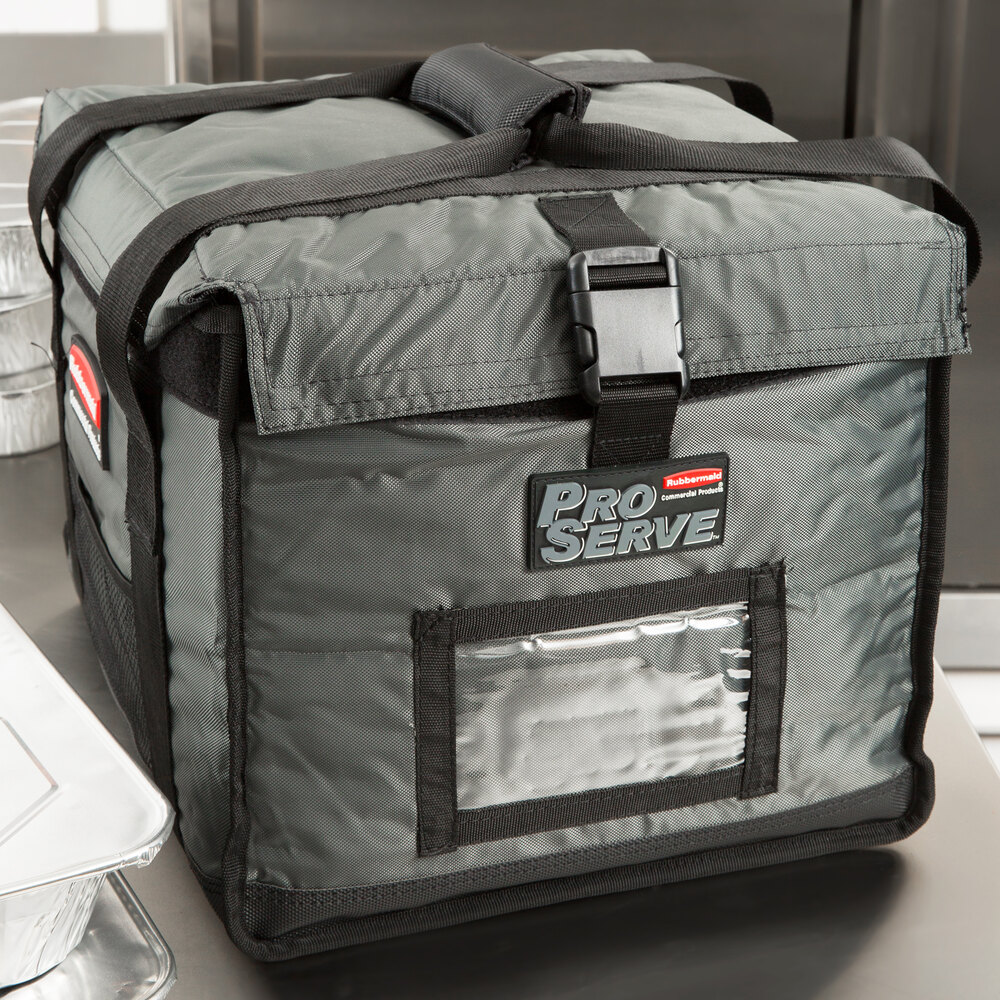 Side Release Buckle Closure
Side release buckles allow single-handed adjustment and release, with interconnecting ends that are easy to operate. To use, simply push the ends together for a secure closure. When ready to open the connection, compress the sides together for a smooth release.
What is the benefit of a nylon interior?
Nylon is generally water resistant. This helps them keep their contents protected from brief exposure to the elements. Additionally, nylon bags breathe more than PVC bags so there is less chance of boxes or food items becoming soggy due to excess moisture accumulation.
What is the benefit of a PVC interior?
PVC won't absorb any moisture and are often leak proof to help contain messes. This makes these bags incredibly easy to clean compared to nylon. PVC doesn't breathe as well as nylon so it is recommended for shorter delivery distances.
Insulated Delivery Bag Foam Insulation
Foam insulation is what keeps hot foods, hotter, longer, in delivery bags. It is found between the outer layer of fabric and the inner lining of the bag, acting to reduce heat conduction (the transfer of heat through a solid), with its excellent insulating abilities. We carry insulated food delivery bags with 1″ or 2″ thick insulation within their cores.
Foam insulation can be closed cell or open cell in nature, with closed cell being a better insulator, but significantly more expensive, heavier, and rigid than open cell foam. Open cell foam is less expensive than closed cell foam, light in weight, and easy to compress, making it ideal for insulating delivery bags in food service applications. Rarely will you find closed cell insulation in a delivery bag for hot food.
Open Cell vs. Closed Cell Foam Insulation

| Open Cell | Closed Cell |
| --- | --- |
| Light in Weight | Heavy in Weight |
| Soft and Easy to Compress | Rigid in Nature |
| $ | $$ |
Types of Foam Insulation
There are three main types of foam insulation used in insulating delivery bags: polyvinyl chloride (PVC), polyurethane (PU), and polyester. These will help decide what is the best food bag for your specific needs.
Polyvinyl Chloride (PVC) Foam Insulation
A type of thermoplastic polymer, polyvinyl chloride (PVC) is a durable, cost-effective material. It's available in hard or soft forms, with soft PVC being the more common form used in insulating delivery bags. Soft PVC is extremely flexible thanks to a higher concentration of plasticizer than hard PVC contains. It's also resistant to oil, grease, and chemicals, making it ideal for high volume food service applications. Check out our polyvinyl chloride-insulated food bags.
Polyurethane (PU) Foam Insulation
Commonly referred to as PU, polyurethane is a polymer that is considered to be a highly resilient, flexible, and durable material. It's extremely versatile, and because it's PVC free, it's becoming increasingly popular as a foam insulation option. Polyurethane is breathable thanks to its open cell design, which means it's also highly resistant to mildew and won't trap odors. It's also light weight, making it ideal for food delivery personnel to carry from one location to the next. We offer polyurethane-insulated food bags.
Polyester Foam Insulation
Polyester foam is a type of polyurethane that features a higher tensile strength than its polyurethane foam counterpart (polyether). This results in a foam that is just as flexible, breathable, and light weight as traditional polyurethane foam, but with superior cut resistance, too. For your convenience, we have both polyester-insulated food bags and polyester-insulated pizza bags.
| | Polyvinyl Chloride (PVC) | Polyurethane (PU) | Polyester |
| --- | --- | --- | --- |
| Breathability | No | Some | Some |
| Open or Closed Cell | Semi-Open | Open | Open |
| Cost | $ | $$ | $$$ |
Insulated Food Delivery Bag Configurations
Insulated food delivery bags are designed to carry cans, bottles, deli trays, sandwiches, food pans, and pizzas with ease. Bags may have top loading or end loading designs, and when not in use, the bags can usually be collapsed down for space-saving storage. Many bags also feature sewn-on hanging loops for elevated storage and drying.
Top Loading Insulated Food Delivery Bags
Top loading insulated food delivery bags make it easy to transport stacked products, particularly for catering applications. These bags enable staff to simply stack beverages, deli trays, take-out containers, and food pans within the bag, close the bag from the top, and go.
End Loading Insulated Food Delivery Bags
Most often associated with pizza delivery bags, end loading insulated food delivery bags allow products to be slid into the bag from the front, then secured with a zipper or hook-and-loop closure. These bags are designed to hold anything from a single deli tray up to 10 pizza boxes.
Additional Insulated Food Delivery Bag Features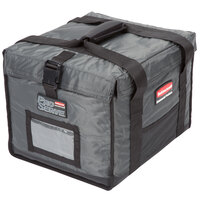 Heavy Stitching
Heavy stitching on most commercial grade bags works to prevent rips and tears at the seams.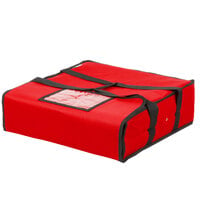 ID Windows
Most delivery bags are designed with a see-through ID window on the outside of the bag. This window easily holds menus, coupons, business cards, receipts, and order tickets, for increased advertising and order accuracy.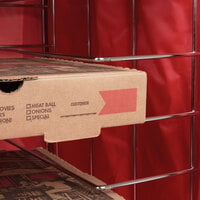 Metal Racks
Some pizza delivery bags feature interior metal racks, perfect for high volume pizza shops that thrive on speed. These bags tend to be bulkier than those without racks, but the efficiency they deliver usually outweighs the inconvenience of the added bulk.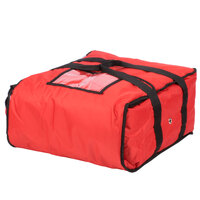 Reinforced Handles
Reinforced handles make for safe and reliable transport.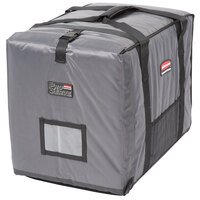 Runners
Some insulated food delivery bags feature strong aluminum runners within the bag. These runners offer superior pan support during transport and make it easy to slide pans into and out of the bag from the front.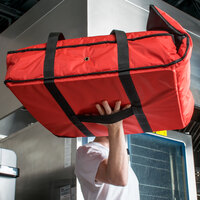 Wrist Straps
Wrist straps on some bags' undersides allow delivery persons to hold bags like a tray, minimizing lost bags while increasing confidence in product delivery.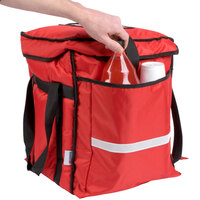 Hardboard Bottom
Hardboard bottoms help ensure stability when delivery bags are being carried.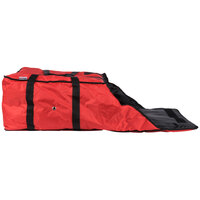 Reflective Strips
Reflective strips keep delivery people safer from passing cars during late night deliveries.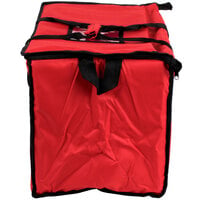 Storage Loops
Storage loops allow delivery bags to be kept off the floors and well organized in storage areas.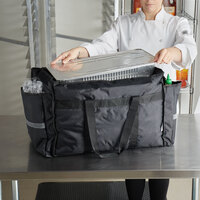 Pockets
Pockets allow for extra storage space and help keep hot and cold items separate.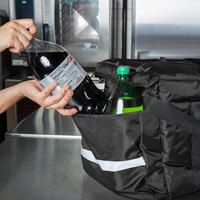 Hawking Opening
Hawking openings give you quick access to the contents of the bag without losing too much of the bags interior temperature.
Insulated Delivery Bag Sizes
Insulated delivery bags come in an array of shapes and sizes to meet any need. From small, personal size pizzas to multiple full size food pans, the foods these bags carry demand vastly different space requirements, requiring vastly different bags from one business to the next. Bags may be square in shape for pizza boxes, or they may be rectangular in shape for stacked food pans. They may be tall for numerous stacked items, or they may be shallow for 1 or 2 items.
Insulated Bag Description

Insulated Bag Image

Insulated Bag Dimensions

Insulated Bag Capacity

Insulated Cooler / Hot or Cold Sandwich Bag

12″ x 9″ x 11 1/2″

24 (12 oz.) Cans

Insulated Deli Tray Bag

18″ x 18″ x 5″

1 (18″) Deli Tray with Dome Lid

Insulated Half Size Food Pan Carrier

19″ x 16 3/4″ x 15″

3 (2 1/2″ Deep) 1/2 Size Food Pans

Insulated Cooler Bag

22″ x 13″ x 14″

30 (12 oz.) Bottles
72 (12 oz.) Cans

Insulated Food Delivery Bag / Pan Carrier

23″ x 13″ x 15″

5 (2 1/2″ Deep) Full Size Food Pans

Insulated Full Size Bun / Sheet Pan Delivery Bag / Carrier

26″ x 18″ x 5″

2 Full Size Bun/Sheet Pans

Insulated Top Load Full Size Food Pan Carrier

28″ x 19 1/4″ x 19 1/2″

5 (2 1/2″ Deep) Full Size Food Pans
Insulated Pizza Delivery Bag Sizes
The best pizza delivery bags are designed to carry pizzas from 14″ to 24″ in diameter or length. They are available in sizes to accommodate one or more stacked pizza boxes, with the height of the bag being directly proportional to the number of pizzas the bag can hold. Higher heights offer more space for stacking towers of pizzas, while lower heights make it easy to deliver 1 or 2 pizzas at a time.
Pizza Delivery Bag Description

Available Bag Heights

Pizza Delivery Bag Capacity

17″ x 16 1/2″ Pizza Bags

(4) 12″ pizza boxes or (3) 14″ pizza boxes

17″ x 17″ Pizza Bags

(6) 12″ to 14″ pizza boxes

18″ x 17 1/4″ Pizza Bags

19″ x 19″ Pizza Bags

(6) 16″ pizza boxes
(10) 16″ pizza boxes

19 3/4″ x 19 3/4″ Pizza Bags

(6) 16″ pizza boxes or (6) 18″ pizza boxes

21 1/2″ x 19 3/4″ Pizza Bags

(4) 16″ pizza boxes or (3) 18″ pizza boxes

24″ x 24″ Pizza Bags

25″ x 26″ Pizza Bags